Chiropractor John Marian D.C., Clinic Director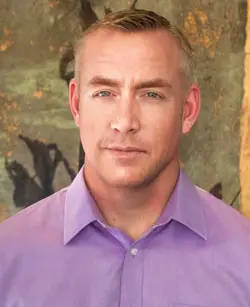 Dr. John Marian has been a licensed Chiropractor in the state of California since graduating from Palmer College of Chiropractic in 2002 and has been in private practice in downtown Saratoga since 2003.
Dr. Marian utilizes a comprehensive approach to patient care using natural treatment methods for patients of all ages.
These include:
Chiropractic Treatment
Functional Medicine
Cold Laser Therapy
Therapeutic Exercises
Throughout his career, Dr. Marian has specialized in difficult cases such as spinal disc injuries, extremity complaints, and spinal and non-spinal structural distortions.
With extensive knowledge, training and experience using Palmer-Gonstead, Diversified, Drop-Table and Activator techniques, Dr. Marian customizes a treatment plan to handle each patient's specific needs.
I became interested in Chiropractic after a chance encounter and treatment by one of the best doctors in the country, Dr. Bill Tarr.   After being treated and helped immensely by Dr. Tarr,  I decided to pursue a career as a Chiropractor, and enrolled in the premier Chiropractic College in the country, Palmer West College of Chiropractic.  Following graduation in 2002, I completed an internship with Dr. Tarr and then decided to start practicing in my hometown of Saratoga Ca in 2003.  
For the first decade of my practice I focused almost exclusively on the structural aspect of the human body.  I believe, as do most Chiropractors that the structure of the body directly dictates the function of the body.  I was working diligently to repair the structures of my patients and the interactions between the bones, joints and nervous system.  I was able to deal with and reverse the structural problems that were causing pain and dysfunctions in my patients, but I knew there were always problems I couldn't help with.  I found that my patients could be walking around with perfect spines, everything working to the best of its ability "structurally," yet they were still on a slow decline.  Year after year they were not only getting older (age is undefeated), but sicker as well… And no matter what we tried, neither myself nor their primary medical doctor or specialists seemed to be able to do much to slow this down.   It became obvious that we were simply just managing their issues, illnesses and pains.   There had to be something more.
As a practicing Chiropractor, which is a physically demanding job, I knew I had to take care of myself.  For years I've exercised religiously, I've been a runner, a cyclist, a weigh lifter and a boot camper, I've also tried to maintain my health through many different diets, vegan, vegetarian, mediterranean, and on occasion (the not so healthy). 
Then a couple of years ago I started to have some mild stomach pain and as months went on the pain got much worse.  My primary doctor sent me to specialist after specialist.  They poked and prodded, using every tool and diagnostic study they had.   After a couple visits to the emergency room,  2 colonoscopies, an endoscopy, a MRI, numerous blood tests and finally an ultrasound, It was determined that the cause of my symptoms was a hemangioma on my liver.  A benign tumor with no treatments needed or available.  I was basically told to deal with it…  I was sent home with a shrug of the shoulder.  As if the diagnosis was supposed to be the cure!   These doctors did exactly what they were supposed to do, and they did it well, they went above and beyond what the current medical model would allow, yet I was still suffering.  And I realized that nowhere along the line had anyone even suggested that perhaps I might be contributing through my diet or lifestyle choices.
This came as my wake up call and I realized that the problem was, modern medicine, while excellent in finding and treating life threatening diseases, isn't useful with treating chronic diseases.   They had successfully ruled out anything that would kill me,  but I wasn't any better.  There had to be someone who had an answer.   There had to be some kind of a solution. 
My frustration and experiences drove me to look further into the state of healthcare, and drove me to look for a different and better way. 
This came at about the same time as I could no longer ignore the trends I had been seeing with my own patients: 
They weren't responding to treatment as quickly.
Many were asking what I could do with their chronic conditions because their primary doctor or specialist had tried everything and they were running out of options.
These people were in trouble, they felt horrible and truly sick, but as long as their conventional lab tests were normal or could be normalized with a variety of medications, they were considered healthy by their physicians. I decided someone had to do something, and after searching for answers for my patients as well as myself, and looking through study after study, I stumbled onto a new treatment model, it was called Functional Medicine.
I realized then, that I had finally found the answers I was looking for.  I knew I could help people live a happier, healthier and longer lives by using the principles already being used by Functional Medicine practitioners.  So I started looking into different options to becoming trained as a functional medicine practitioner. After some research, I found the Institute for Functional Medicine, the worldwide leader in Functional Medicine training.   Also at the time I was introduced to and started working with one of the pioneers in Functional Medicine, Dr. Daniel Kalish. I've trained with many different kinds of healthcare professionals, including: MD's, pharmacists, Osteopaths, and Naturopaths.  It has been extremely rewarding to collaborate with such a diverse group of colleagues.  I believe my training and experience in Functional Medicine allows me to bring my patients cutting edge healthcare.  I look forward to helping more people live longer and fuller lives.   I know together with my patients we can change lives, theirs and others, for the better.  I look forward to serving you!
---
Sunny Farzaneh
Sunny has joined Dr. John Marian in 2015 as a partner and together they have formed Vital Health and Body.
As your advisor, Sunny's goal is to provide all patients a safe, comfortable and nurturing atmosphere in order to help with all related body transformation and implementations.
With an intense focus on patients overall health and wellness,  she will coordinate every aspect of your transformation, after working closely with Dr. Marian to determine exactly what you need to reach your goals and beyond.  She will implement and walk you through each step of the process to make sure that you succeed, her unique ability to guide you on your path to a better you comes from years of hands on interactions with patients of all ages and abilities.
A unique mixture of taskmaster, life coach and cheerleader and drill sergeant (when needed), Sunny will help you push through whatever is stopping you on your way to a better you.  Through close monitoring of your transformation while adapting the process, she will be there to guide you and help make you as successful as possible.
---
About Our Office
Vital Health and Body, Saratoga is the office of Dr. John Marian D.C. and Sunny Farzaneh.  Throughout the years healthcare has continually changed and evolved, and with it our expectations of what it means to be healthy has changed too.
Vital Health and Body, Saratoga is the culmination of those changes.   We have combined  the principles of Chiropractic care along with Functional Medicine and the latest technologies like Whole body Vibration and Far-infrared saunas to bring you the path to true health.  Health from the inside!  We use your body's own processes to get you to the healthiest you.
Detox?  Your body already does it… its called sweat.  Our Far-infrared sauna increases its effectiveness up to 90%.
Strength training?  Your body spends 90% of its energy just standing. Through this state of the art technology, Whole Body Vibration, we able to use the bodies own mechanisms to improve your efficiency, strength and take your fitness to another level.
Our goal is to change the way you live, change unlike any other health center you have experienced. We are a natural health and wellness center, we are able to heal, strengthen and tone the body.
Our mission is to heal the body and awaken the soul. You will look and feel simply incredible!
OFFICE HOURS
---
Monday
8:00am - 6:00pm
---
Tuesday
Closed
---
Wednesday
3:00pm - 6:00pm
---
Thursday
Closed
---
Friday
8:00am - 6:00pm
---
Saturday
Closed